Continuous development of our tourism business studies
It is summer again and the second class of our Tourism Marketing and Management (TMM) Master's Degree Programme is about to finish their first year studies. Second-year students have been working on their minor studies and master's thesis, and some of them are now graduating. In this post we go through student feedback and look at where and how our programme can be improved and what we are doing great.
Nothing is perfect, so there is always room for development. We take developing the programme very seriously. One of our main tools is the annual feedback from our students. We did the same thing last year, and now it is time for the 2019 edition. We publish all the feedback our students gave us here, as we want to be as transparent as possible. We believe this will help us to improve the programme even more as the students starting in the next fall can make sure that the programme has developed as we are promising.
If we look at the numbers in the figures and table below, we can see that even though the numbers are quite good, there is still a lot to be developed. The averages are really similar to last year, which means that in that way our programme has not developed that much during the year (0=Not at all satisfied, 10=Extremely satisfied). Especially the grades of 6 lower the averages. This means that for some students our programme has failed (or that is how we perceive it). This is definitely something we need to improve in the future. One of the main reasons for this is a change in staff that happened last year, and it definitely affected our programme in many ways as the feedback table below shows.
[caption id="attachment_1099" align="alignnone" width="640"]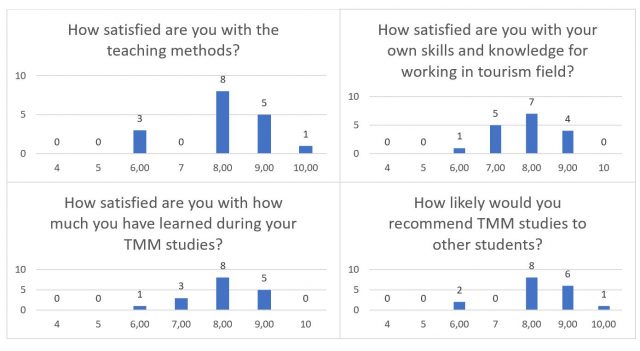 Figure 1. TMM 2018-2019 student satisfaction scores.[/caption]
Table 1. Satisfaction statistics
Descriptive Statistics
N
Minimum
Maximum
Mean
Std. Deviation
How likely would you recommend TMM studies to other students?
17
6,00
10,00
8,2353
1,03256
How satisfied are you with how much you have learned during your TMM studies?
17
6,00
9,00
8,0000
,86603
How satisfied are you with the teaching methods at TMM programme?
17
6,00
10,00
8,0588
1,14404
How satisfied are you with your own skills and knowledge regarding working in tourism business?
17
6,00
9,00
7,8235
,88284
Valid N (listwise)
17
On a side note, we had altogether 16 students, so someone has answered the feedback questionnaire twice. Because the questionnaire was completely anonymous, it is impossible to say which answer to delete. Our 16 students managed to do 1012 ECTS by the beginning of January 2019, with a mean of 63,25 ECTS credits. This is a really great result as we are aiming for 60 ECTS per student per year. All the students who put the effort into their studies from Autumn 2018 have done a great job so far.
Developing tourism business studies
All the student feedback is collected in table 2 below. Based on the feedback there are several things we will do to improve our programme next year:
Exams / assignments
The main idea in our programme is that the students need to have the knowledge and skills stated in our curriculum after each course. Assignments and exams are a way for us to measure if this is indeed the case and to what extent. The main measurement method in our courses is assignments. We do not have any traditional exams as we think that they encourage short time learning instead of learning things so that they are remembered also after the assignments. Many of our assignments are already practice-based and enable students to apply what they have learned into business practices. Definitely, one thing we are constantly developing is the collaboration with businesses, and this is hardly ever ready.
We will also pay more attention to what kind of assignments will be done in groups and what individually. This was not optimal this year, but it is a learning process. All our courses are every year different because the assignments we have done are often case-based.
We will also have to look into the number of group works we have. On the one hand, we are doing a lot of work in groups, and it seems to be a challenge. On the other hand, it is often the case in the modern world that experts need to work in multinational teams that hardly ever meet each other. Still, the work has to be completed in a satisfactory way. This working culture is also something we want to teach our students and even though it might be challenging, it is still something that has to happen.
Assignment instructions will be more detailed and the grading throughout the courses improved. This is important as one of our goals should be that the students know what they need to know and how to demonstrate their knowledge. The idea of having more difficult assignments with higher expected results compared to many assignments with lower expected results is a good one.
Flipped learning: materials and class meetings
We are still ourselves learning how to flip our courses properly. Especially what would be the most efficient thing to do for learning when we meet after having studied the course materials for the meeting. Still, a lot of learning happens during the meetings, but our goal in our flipped courses is to have enough material online for students to be able to learn everything even if they don't make it to class meetings. The role of class meetings is often to focus on difficult issues, but the balance between online and contact content needs to be developed.
The course materials will be developed for next year to include more examples from other parts of Finland as well as globally.
Scheduling
Scheduling courses is also a challenge that we are constantly developing. We only learn it by testing different ways to schedule our courses and assignments and hopefully, the experience from this year will again make the scheduling a little better next year.
Orientation week
Our two-week orientation period is a great success for us, but still, something to be improved even further. We will be including more information about presentation skills for our introduction course. This is a topic we have so far overlooked, but an important one as our students will give a large number of presentations during our studies.
We will also be learning more about group works, how to work in groups both online and offline. This should help our students to better meet the required skills for our course assignments.
Academic writing course will now be provided for all our students.
Programme staff
Our programme exists to give our students the skills and knowledge they need to develop tourism business responsibly anywhere in the world. As people working in the programme change every now and then, it is a challenge for us to get the new members into the spirit and culture of the programme. It does not happen overnight but requires time. The feedback below helps us to pay attention to ourselves and how we can better receive feedback. Our students have the same goal as we do and only by working together it is possible to achieve our goals. However, we are a really small programme with limited resources, and the courses are still new. It is natural that we have challenges in the start, but every year should be better than the last one.
Skills and knowledge in our programme
We have only two years to teach our students everything about tourism marketing and management. It goes without saying that it is impossible, especially as half a year is focused on the master's thesis and a half for minor studies. Basically, most skills and knowledge of our programme is taught during the first year of studies. It is a short time and we have to prioritise what we teach. We have made a conscious decision not to include for example that many practical marketing skills like how to do Google Ads marketing to elective courses and for the students to learn by themselves. We teach our students what is important and why these things are important, but it is not possible to make them, for example, digital marketing practitioners within our programme. We give them all the possibilities, skills and knowledge to become one if that is what they want, but going into details of marketing is impossible for us within the timeframe we have.
We have also made a decision not to have separate courses for wellbeing, nature or sustainable tourism. They are present in all our courses, and especially during the introductory weeks. All the courses have materials connected to these topics. What we can do however is to better emphasize those topics more strongly in our courses.
Table 2. What kind of actions would you suggest for our programme staff and university that would improve your scores?
Practical based assignments and few more exams may help to learn better
Flipped learning is nice idea but it should be controlled somehow that students really study before the lecture. However, it should be considered well how to do that (e.g not in a way it was in experience design course. Some kind of discussion among students in the class would be good.) -It should be possible to distribute studying time more equally during the studying months, now it is very much loaded to certain months or even weeks -Just a minor note, but I would have a discussion with all students about what kind of is a good presentation, I feel the level of presentations has been lower than in my previous studies -Google digital garage should be compulsory -I would pay more attention to individual tasks and have group works only for the tasks that require creativity and/or solving problems. Students teaching each others when doing a group work is an optimistic idea which come true only if you have a very very good group. -In the beginning of the studies I would have a discussion with students about group works regarding the fact that if ~half of the class does not live in Joensuu and not participate to group meetings (not even through skype) and maybe not to the lectures, it is quite a big work amount for those who always attend to every group meeting in every course, and try to refer the lectures for those who were not there. I don't say this has been a big problem, but something to think about just to make students think that for example the first group meeting is also working for it, even though nothing is written to any report - planning is often the most challenging part and would be nice to get everyone involved in it. -Having examples from everywhere in Finland and all over the world, I think it does not require guest lectures everytime. Lecturers could just tell how are tourism things organized e.g. in Kalajoki or some city in New Zealand. This could be done maybe even as group work. -It is confusing that there's no consensus regarding citation to be used in assignments, why don't we just use the one UEF recommends? Now everyone is using whatever they want and that's a problem in group works as no one knows what to use, no one remember to discuss about it in the beginning of the group work and it doesn't work that the "strongest" person just decide it or no one decide it.
There is some consistency missing from teaching; sometimes everything goes extremely smoothly and great, but it can then change suddenly, this was particularly an issue during the spring when it felt like for example the grading of assignments was not coherent and stable (getting way better grades than should have been given for example); it's not very motivating when grading is not consistent. Assignment instructions were very confusing from time to time, which also resulted in missunderstandings when conducting assignments. It is natural that not all professors grade assignments in the same way, but I have never experienced such difficulties of knowing what am I expected for in assignments as I did during the spring, and I think I was not the only one who was from time to time unsatisfied with this.
Better instructions! They need to be clear so that students know what it is that they should do and what kind of assignment they should do. This was a problem during many courses and different lecturers. Raija has very detailed and clear instructions which could be used as a guideline when making instructions for other courses. Staff giving lectures should be aware how the programme works and know the topics they teach well. They should also be open to constructive criticism. One staff member had problems with these things that really affected the satisfaction of many students.
Teaching could be done by using different ways, the real life examples and collaboration with companies is always good.
Courses included too much group works especially at that point when there were too many groups in different courses, it doesn't reflect or help working in the "real world" and it only decreases the motivation when the energy is put to form the groups and schedule rather than focusing on the work itself. Not compulsory presence in the courses at this point of the studies is appreciated. Accounting courses are very useful and would have like to take more of those.
Less group work, clearer instructions for assignments, more classes in business and accounting etc=kauppiksen kursseja. Flipped learning did not work with us. I am still lacking concrete skills in online marketing, which is why I enrolled on the Google ads Project, but a long course during the summer is extremely difficult to fit in with work schedule.
Maybe include a course about wellness tourism or sustainable tourism. It is marketed as one of the core issues of this program but it is not really included as a separate course. Of course, it was a bit part of some assignments, but it should made a separate course as it is advertised as such an important part of the whole program on the web page. Then, also students should be encouraged to speak more english. It should be mandatory that applicants know how to write academic texts or it should be recommended to them to take suitable courses. focus on quality of assignments instead of quality, meaning better have a higher level and make them more difficult and expect more than just have a lot of stuff to do. Some instructions should be made more clear and the expectancy and grading varies too much. For some courses like Destination marketing it would be better to have the course over a shorter time period. Maybe split Practical Tourism research course in two separate courses. The communication is sometimes very confusing, it would be better to limit on one channel and just use email or Facebook and be consistent with it. Also, sometimes things were told too late.
More field work, collaboration with real businesses, work oppirtunities
Maybe some charting about accounting skills on the beginning. As there are much of group works, there should be more focus on how people are working in a group. As there is no "named" leaders in the groups, the communication in a group can be challenging. When someone tries to "take charge" and lead, he/she eventually can be in a situation where he/she is doing all the jobs, and every one else is just waiting for the job to be done. As in the "real life" teams normally have leaders, could this be applied also in the program? E.g. dividing groups in the way that e.g. two persons is in charge in every course. The shifts circulates, so that everyone knows that if they don't play their role in supporting the leader and being a equal member of a team, it will eventually backfire when he is in charge. I don´t know if this is a solution, and did my writing made any sense - but anyway I feel that some improvements would be nice to this issue if the group works will play a major role in the future - as there students are from different kinds of backgrounds and working in different manners.
In my opinion the Introduction to Tourism -course should be compulsory for those who are not coming from tourism studies. It should also be in the beginning of studies. On the contrary, more business studies would be good for people coming for tourism studies.
I suggest more knowledge at international level than North-Karelia level. The program staff are really nice and support us a lot.
I would direct the entity of the Tourism Marketing and Management perhaps even more towards commercial or economic degree, since that was the main applying aspect for me personally. I am basing this on comparison to the University of Lapland´s social science degree, which is the (only) other (university) option for most Finnish restonomi-degree applicants.
I like the idea that no exams are included. It works and challenges the students in a way that mirrors the work life. Although, some of the group works could be changed into independet or pair works, since in some of the group works, it so happens that people just do their share and dont understand the main picture. This is also because the students choose to do so, so it is a multi-sided problem.
What we are doing great
We also asked our students what were the best things during the past 12 months (Table 3). These are really nice to read and shows that we are doing many things quite well. We are evidently doing a lot of practical things, many of our courses are inspiring, we have excellent staff and great guest lecturers. Our fields trips have been successful and there is a good team spirit among students.
Table 3. What were the best things in our programme during the past 12 months?
field visits, practicle based assignment and more importantly introduction to technology in tourism. The technnology part is very interting as it helps us to learn what is going on and what are the possiblities in the industry
Good atmosphere in the class. Quality of teaching (especially at the beginning I felt many times I cannot write fast enough my notes as there were so much new knowledge and information for me, I really felt these are master level studies and that I am learning a lot.) Very interesting topics in courses! Easy communication with staff! Flexibility. I am satisfied I chose these studies!
I really like the staff of this programme, everyone is so encouraging! But I have to say there is also a downside there; sometimes the programme is too flexible for the students, which seems to create difficulties sometimes. I understand it is nice that we are able to adapt, but sometimes it goes too far I think. I basically have enjoyed all the courses we have had, except that Experience Design was a big dissapointment to me. Then again, Profitable Tourism Businesses was one of the courses I was least excited for, but it turned out to be one of my favorite courses, even though many of the subjects that were taught there were already familiar to me. However, I am very bad in that particular subject, and this was the first time I actually enjoyed learning all those things. Practical Tourism Research was one of the most hardest, but also most rewarding courses. It was a lot of work, and especially still in quantitative methods there is so much more to learn, but it was all worth it. During the autumn, I would say that Tourism Behavior was one of the most useful courses then, as it was more learning something new. All in all, I have enjoyed my time in general in the programme, even if I have not been satisfied with everything. I think the encouraging attidute of the staff is one of the most unique and inspiring things. It's still a new programme, and you're finding your direction, but with little work this could turn out be something very unique. Great work!
-Guest lectures have been great! -Possibility to go to exchange -Grading through assignments not exams -A lot of group work and presentations to help with working life -Not having to do presentations alone -Staffs close relationship with students -Flexibility of staff
No exams, great trips to Ilomantsi and Sortavala, good project works, amazing team spirit.
Of course the people. Amazing how you have chosen so likeminded people. The extra courses such as ITB and Sortavala.
Real-life context and examples are practical, not having exams most of the courses and more focusing on some task done with a company instead is teaching more.
Our class! Flexible teachers. Study trips. Learning more than in UAS. Being able to write assignments about our own interests (e.g. the destinations of our choice).
I enjoyed the practical things, assignments and excursions such as the trip to Sortavala, the Tahko Ski lift Pitch or the marketing plans for real companies. The internationalization of tourism firms guest lecture was really cool and I had the feeling I learned a lot.
Sortavala course
Excursions. Overall the whole program was really nice, and the whole class has good spirit towards everything. Learned a lot new about marketing, doing a research and academic papers and from the whole tourism business, which completed in a good way my previous knowledge about things. I also think I did a lot of friendships which at least hopefully, will last a long time. Good work, and I can really recommend this program to everyone without hesitations!
Interesting courses, trips, friends
Practical course is really helpful because it helps us use our own knowledge on a real business and meet new people with different background to widen our network.
The preactical co-operation with real tourism businesses and the diversity of different courses, even though there were some overlappings.
The courses, I think the content has been relevant and clear. I feel that most of the objectives set, are being accomplished. Improvements should be made on the assignments concerning the experience design course. The group work made for Koli, was interesting for some groups, for others it was more like what we did at previous studies (studying the signages and information plates of the hotel)
Second-year student feedback
We also collected some feedback from our second-year students who are finishing their studies. Their main issues are connected to the master's thesis process, which we are now also developing. The idea that also the second year studies should foster the great group spirit achieved during the first year is a good one for us to ponder about. Our first student just recently graduated and others will soon follow, but the master's thesis does indeed take a lot of time. However, all the students have the possibility and supervision to graduate within the time frame and we do not want to have strict guidelines and rules for writing the thesis. It is also a self-management exercise and more relaxed time schedule increases the quality of the work.
| | |
| --- | --- |
| What kind of actions would you suggest for our programme staff and university that would improve your scores? | What were the best things in our programme during the past 12 months? |
| | Possibility to study abroad |
| More concordant course workload. | As a second year student, there was not so much connection with school this year but I am happy to see all the action and different kinds of field trips and various projects going on with the first year students. Every time I saw the teachers they were happy to discuss about how it's going with us older ones :) I almost wish I could do it all over again! |
| More practical courses, especially on management. Independent course on sustainable tourism and wellbeing tourism. Research based programme, the second year is basically just writing the master's thesis. | Master's thesis course with supervision for the thesis. Other courses have been online studies, which is not motivating. Second year does not have mandatory courses, which makes the group spirit disappear. |
| Talking and planning about the thesis from the very start. | The possibility to learn so many new things. I don't know if I improved my professional profile so much (except almost having this education). What I mean is that I learned a lot about research articles, to write reports, to communicate better in English, to survive from all the deadlines etc. but I'm not sure if I can really say for some company that I know how to do marketing. How to utilize this knowledge in a working life? |
What happens next?
Huge thanks to all our students who voluntarily answered this feedback survey. Many of the issues have been brought up during the year in many conversations we have had, but now they are all documented. Our 2019 students start their studies in September and our more senior students keep graduating. The application period for our 2020 studies will start in November.
Are you looking for an international tourism-focused master's degree programme in business? Tourism Marketing and Management programme by University of Eastern Finland provides a unique learning experience for students who have finished their bachelor's degree and are looking for new skills and knowledge in developing tourism industry in a sustainable way. Read more about the programme at www.uef.fi/tmm.