It is summer and it means that the first year of our studies in our International Master's Degree programme in Tourism Marketing and Management at the University of Eastern Finland is about to be finished. And what a year it has been! We have done and accomplished so much. Tourism Marketing and Management studies have proven to be innovative, useful and interesting, but there is still a lot to do to improve. Go on and read what is it like to study tourism business in our programme.
[caption id="attachment_487" align="alignnone" width="640"]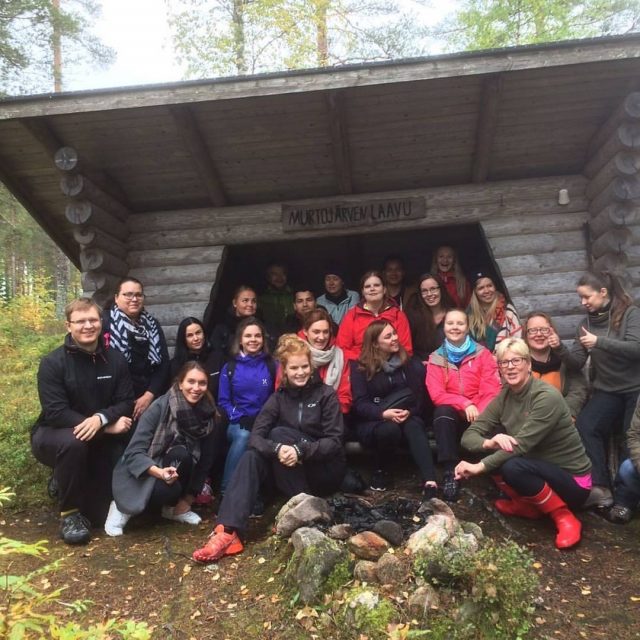 TMM students and staff during the orientation week[/caption]
Student feedback on Tourism Marketing and Management Studies
We collect continuous feedback from our students as well as stakeholders. We have an advisory board that consists of business representatives who ensure that our teaching corresponds to the needs of the industry. However, the most valuable feedback we get from our students. For the first year, we had a total of 20 students who are co-creating this learning experience with us. After each course, course-related feedback is collected. This feedback is used to develop individual courses. Once a year we also collect general feedback with a completely anonymous survey from our students. 14 students answered the survey and this is the feedback we got from 2017-2018 studies:
[caption id="attachment_485" align="alignnone" width="630"]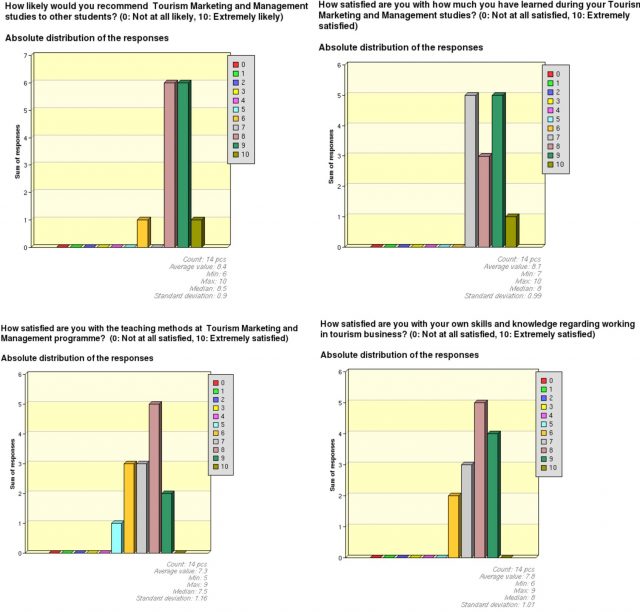 TMM student satisfaction results 2017-2018[/caption]
From these results, it is obvious that our students would be quite likely to recommend our programme to other students, but we can also see that there is a lot to improve. Especially teaching methods need to be improved, and it is our top priority coming to the second year of studies. For us, the results show that we are doing things overall quite well, but we still need to improve in many ways.
We also asked for written, open feedback, and this is the feedback we received. We have not censored or edited the feedback in any way, but have responded to it on the right side column.
Student feedback
Staff response
Perhaps focusing in a few themes instead of trying to include everything in the studies. I have enjoyed the atmosphere though and hope the connection between students and teachers remain close.
Indeed, our programme is quite ambitious, to say the least. Students need to work quite hard and learning goals have been set high. We definitely need to prioritize our learning goals better and have clearer focus on courses and the whole programme on what we want to achieve.
More info on flipped learning at the beginning, before using it as a teaching method. Emphasis on reserving time in calendar besides contact lectures, maybe have an assignment where that is practiced. Having all tasks and their due dates available at the beginning of the course, so that there are no surprises afterwards about extra tasks along the way.
Our studies start now with 2 ECTS Introduction course that has enough time to discuss the teaching methods we use and how we are expecting the studies to be completed. During the first year we had to partially build the courses as we advanced, but for the second year, the situation should be better as a majority of the materials and assignments are now ready.
In some courses, whole course was based on group work. To me, better if half of the work is at least individual task. For group work, better if the teacher makes the group randomly, so there is opportunity to work with every classmates and learn from everyone.

We do emphasize working as teams in our programme quite a lot. However, we understand that the grade should not be completely dependent on how other people work.

For the next year, we will always randomize the groups to make sure that our students get to know each other better and have different teamwork experiences.

I have done everything to my best ability. I notice in some courses I could have done a better job. For the future, I suggest the programme staff to be more aware of what is going on with the students' workload and not placing deadlines in the same times. Trying new teaching methods is good but make sure to also inform the students about all the changes.
We have already planned the second year schedule so that assignment deadlines are visible for everyone and that there is not too much overlap between assignments and deadlines. We will also go through the timetable for the year during the Introduction course.
There's nothing much to add for the topics we've already discussed during the year. Schedule should be planned better, instructions for assignments should be clearer right at the beginning, dead-lines should walk better hand-in-hand with other courses and flipped learning method needs to be open up for students beforehand.
This feedback summarizes well earlier comments and these are definitely the issues that we have and will be paying more attention to.
Group work was not working very well (most of the times), it was more like split the task and everybody take care just their own part. Nearly every group somebody was complaining, lacking interest etc. Better to work with pairs or max 3 people in a group. You can learn by yourself a lot but when students are not at the same level of previous knowledge or share the same interests, you need a teacher to tell the basics and give quidance in tasks. There is a lot of material in Moodle, so I can continue learning by myself and I will. Flipped learning method was working well in Experience design course and you should use it in the future, too. Tourist behavior course content was excellent. Tasks in IT course were good and educational. I was hoping to here more about the future of tourism industry from the business perspective. We should have our own course about the leadership in tourism firms, the other Uni courses do no help much. The other marketing and business courses in Uni are mostly online courses or not very interesting ones. Comparing the other courses in Uni our own were excellent, so keep up the good work!

The goal of group work is to give our students a possibility to openly discuss topics and work genuinely together, increasing the skills and knowledge for everyone on the team. Doing group work by partitioning it for every student does not really advance this goal. In the work life however, it is common to do group work in a way that everyone does his or her part and then the combined work is reviewed together. Probably smaller groups would work better in any case and we will pay attention that a wide variety of different kinds of teams is used during various courses we have.

Leadership in tourism is something that we will supplement with additional courses. This year we had Dr. Teresa Aguiar Quintana from University of Las Palmas to teach the topic in a supplementary course and hope to continue this in the future.

This was a pilot year, so a bit more organized approach. Maybe to evaluate a bit more closely the starting level of students skills. But not to lower the expectation level of these studies rather expect some bridge studies if needed. Positive: Diverse learning methods, flexibility, focus on learning (not executing the program), connecting academics to practical business reality, focus on current and future (not only old theories), all professors have a different style to teach which I found good.
The starting level of our students vary quite a bit and it is a constant challenge for us. We will be thinking about the application criteria so that the students should be more similar with their starting level. A bachelor's degree in business studies such as marketing or management should provide a solid background for our studies and knowledge about tourism business is definitely a great thing to have. However, it is also a fact that some students need to study more than some another because we aim that all the students graduating from our programme match our knowledge and skill goals.
The academic year 2017-2018 in numbers
How did the first year in Tourism Marketing and Management studies succeed in numbers? Altogether 20 students started their studies in the Autumn semester of 2017. We have one full-time staff and two working with the studies in part-time. Professor Jamie Murphy has been a great assistance to us and he spent the Autumn with us in Joensuu starting up the programme. We are also happy to welcome him in Autumn 2018! We also had three other international guest professors visiting us and giving our students courses on their own expert topics. Besides that, we had dozens of businesses, destination staff, and other guest lecturers providing insights on Tourism Marketing and Management to our students.
Our students managed to study 1175 ECTS credits with an average of 58,75 ECTS and median of 64. We clearly surpassed the goal of 55 ECTS per year on average, so well done to all our students!
For the 2018 studies, we had 119 applicants, a growth of nearly 100 percent from 2017. The programme is becoming quite popular! Our mission of making tourism better resonates all over the planet and we have had applications from all over the world. Our website www.uef.fi/tmm has visitors from more than 100 countries with at least a dozen visitors from 50 countries just during the past year.
During the past year, our blog www.tourismmarketingandmanagement.com has been visited 4582 times. The most popular student-written blog post was from Lari Turunen, who discussed the most common problem in destination marketing.
Our students have been updating our Instagram to show how it is like to study Tourism Marketing and Management in Joensuu, Finland. The new students will start to update the account this fall. Looking at the Instagram feed, the year has not been just about studying, but a lot of fun has been had. Our Facebook page has almost 2000 likes and it is by far the best way to keep up with what is happening with the programme.
What will be happening in academic year 2018-2019 in Tourism Marketing and Management?
Our second student group will be starting their studies in September 2018. We are working now to develop the courses for the next year to make the learning experience even better. We have great collaborations and guest lecturers planned and many fantastic cases to test our skills in the real world.
It will also be an exciting year as our first students start to graduate. Many of them are now writing their master's thesis and we have extremely interesting studies coming up during the next academic year!
We will start looking for new students again sometime in November for studies starting in September 2019. If you want to be kept up to date with the application process, sign up for our newsletter.
Get a master's degree in tourism business
Are you looking for an international tourism-focused master's degree programme in business? Tourism Marketing and Management programme by University of Eastern Finland provides a unique learning experience for students who have finished their bachelor's degree and are looking for new skills and knowledge in developing tourism industry in a sustainable way. Read more about the programme at www.uef.fi/tmm.